"Now You're Teaching Me": Fostering Teamwork and Confidence Through Literature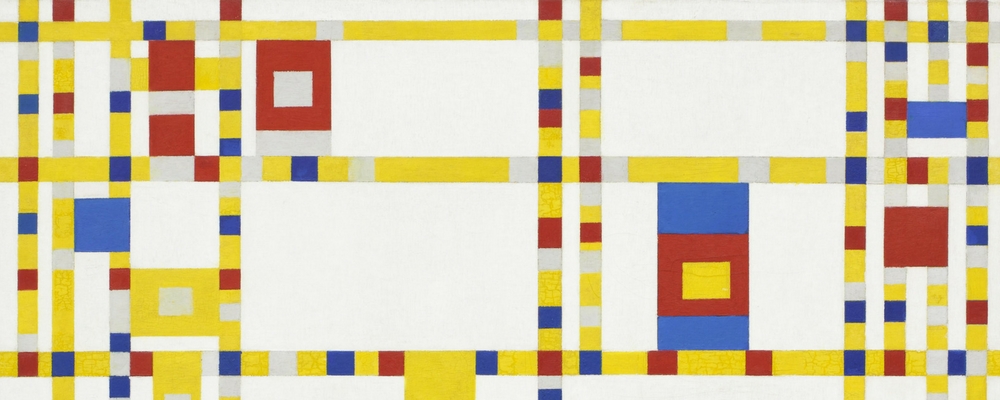 Image: Piet Mondrian, Broadway Boogie Woogie, 1942, Museum of Modern Art, New York City, [Public Domain] via Wikimedia Commons
I recently had the opportunity to speak with Professor Theresa Grupico about her experience guiding discussions in Books@Work programs – specifically in a New Jersey branch of a national healthcare company, working with patient care personnel. Theresa teaches art history at Monmouth University and holds degrees in English and Creative Writing, Art History and Interior Design.
Tell me about your general impressions of teaching with Books@Work.
It's especially interesting with working adults. There are these moments, especially when working with a complex novel, where you really see the lightbulbs going on. These are "aha" moments, and they come from discussing a character or a passage from a novel. Reading alone, participants think they get it – but as they start to have a conversation, they ask themselves "why didn't I see that?" Colleagues learn from each other and grow together. It's a wonderful way to approach teamwork, and it shows why meetings are important, why colleagues are important. You get something from those interactions that you don't get on your own. It is so neat to sit in a room with people and learn about what they are thinking.
I am also compelled by the fact that this is their choice. It amazes me that these employees are, for instance, giving up their lunch hour, or personal time in the week, time in their busy days, to read something and really challenge themselves. It shows that this is a rewarding experience for them.
What a wonderful point – fostering good discussions is a way to emphasize the value of teamwork. Do you see any other outcomes or changes coming out of these Books@Work seminars?
In the beginning of Books@Work sessions, the participants are often a little more quiet, maybe even reluctant to answer questions. Maybe they worry that they don't know the answer, or think they are going to get it wrong. But as the discussions progress, the participants relax – they become more comfortable expressing their ideas, even if those ideas are further afield. I encourage them to stop me, to talk about what they are thinking, and over time they are more willing to do so. Their interests are as valid as mine – and by the end of our discussions, I can see that they have grown in confidence.
Some of these people are nurses, some work in the office, and some are in business graduate programs. Books@Work is open to each of their voices. It exposes their differences, and is really mind-broadening: their ways of thinking, and their different personal experiences help them bring a richness to the conversation. They are stretching themselves – and they are becoming more comfortable with the fact that no one knows everything. They are becoming more confident – and if you can start to build confidence during your lunch hour with a professor, maybe you'll be able to speak up at your next work meeting, too.
You recently taught a rather challenging novel to this group – F. Scott Fitzgerald's Tender is the Night. Can you tell me about that experience?
I hadn't read the novel in years and I thought, for summer, why not a nice, enjoyable read set in the French Riviera. It turned out to be a completely different experience, but all the better for it. Fitzgerald's writing is rich but challenging, and the characters are facing real obstacles. I said to the participants, "Fitzgerald is a great writer. He is not a good writer, not an an entertainer." With a book like this, you can read it anew every time, and there are so many things that even a specialist can miss. The participants appreciated that, and they are really intelligent – they pointed out things that weren't where I was going, and it was good stuff. I thought "Now you're teaching me, I didn't see it that way. I didn't catch that."
How is teaching with Books@Work different from your experiences in the college classroom?
With college students I always have a plan for what I want them to get out of a lesson, and this has encouraged me to be conscious of not talking at them or lecturing too much. Watching this process with adults has encouraged me to allow more time for conversation in the classroom – to allow students more time to talk. You can cover the same ground, but they enjoy the process so much more. In both the classroom and with Books@Work, however, I can see that the discussion process is a collaborative process and a problem solving process: working together to decipher a character or a passage. It's like taking a puzzle apart and putting it back together again – that kind of critical thinking transcends fields and backgrounds.
Learn More About Our Programs or Read More on The Notebook:
The One Trait Teams Need for Better Productivity and Collaboration
How Literature is a Catalyst for Creative Thinking
"Learning to Respect One Another's Point of View": A Books@Work Participant Interview
---